Sleep Bombshell Hot Choc & Eye Mask Set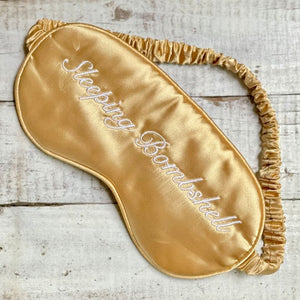 gdfgdfgdfgdfgfg

Sleep Bombshell Hot Choc & Eye Mask Set
Regular price
$42.00
Sale price
$44.90
Save $2.9
Do you struggle with your sleep? So did our nutritionist founder. That's why she created this delicious, relaxing hot chocolate blend to help you unwind! Paired with this silky eye mask which helps block out light for uninterrupted sleep, this duo makes for the perfect bedtime ritual.


Made with cocoa, rose and passionflower
Helps you wind down, rest and recover
15 serves - $1.65 per hot chocolate

Low in sugar
Cocoa
A potent antioxidant for radiant skin and contains important minerals such as magnesium, iron & potassium
Passionflower
Relieves insomnia, anxiety and stress and may boost the feel good chemical, serotonin

Rose
Sleep inducing, stress reducing and anti-aging benefits

Coconut Milk Powder
While it adds the creaminess to your drink, it also supplies a multitude of vitamins and minerals, including selenium, folate and manganese. Plus it's a great source of fibre!

Coconut Blossom Sugar
This low-GI natural sugar alternative is packed with nutrients such as antioxidants, iron, calcium and potassium. It's good for your gut-health too!

Erythritol
A natural sweetener that contains no calories and doesn't raise blood sugar or insulin levels. Ideal for diabetics.
Coconut milk powder, cocoa, coconut blossom sugar, natural sweetener (erythritol), rose petal, passionflower, vanilla flavour.

Stovetop instructions:
In a saucepan, heat up 1 cup of milk in a saucepan with 1 scoop of hot chocolate and mix in!

Milk frother instructions:
Add 1 cup of milk and 1 scoop of hot chocolate into your milk frother and turn on!
Once you place your order, we mail it out on the same day from our warehouse in Port Melbourne, Victoria!

Get FREE standard shipping on orders $75+ and FREE express at $150

International shipping is temporarily closed.
Meet Cinzia & Lana
From a little home invention to a booming business...
Smoothie Bombs was developed back in 2011 by certified nutritionist Cinzia for her fussy eater Lana.
The mother daughter duo now run this small Aussie business together!