Pop Muesli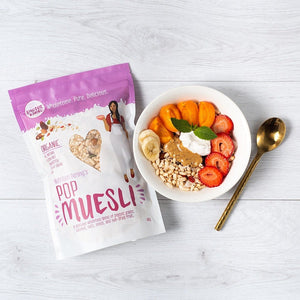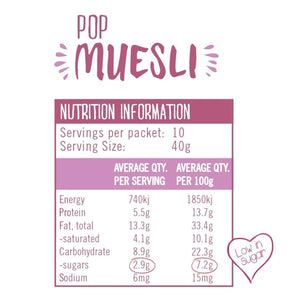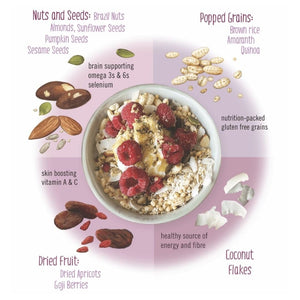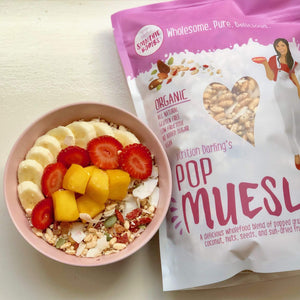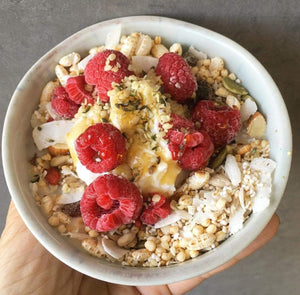 gdfgdfgdfgdfgfg





A delicious whole food blend of puffed rice and seeds, raw nuts,
sun dried fruits and
coconut. It's great served just with milk or as a smoothie topper
Gives you a light, nourishing lift to your morning!
Made with all natural ingredients
Nutritionist developed, fussy eater approved
- This trio of puffed brown rice, amaranth and quinoa provide plenty of fibre, protein and micronutrients to keep you regular

- Brazil nuts and almonds provide selenium and zinc which help support the immune system

- Sunflower seeds, pumpkin seeds, sesame seeds bring vitamins A, B, C and E as well as the minerals calcium and iron to help maintaining healthy bones, blood and all-round vitality

- Apricot and goji provide Vitamin A and C which are both vital ingredients for growth and repair of body tissue and promote smooth, clear skin
Popped quinoa, popped amaranth, popped brown rice, coconut flakes, sunflower seeds, pumpkin seeds, sesame seeds, almonds, brazil nuts, apricots, organic goji berries.

Contains: tree nuts (almonds & brazil nuts) and sulphites


Most spectacular served with milk and fresh fruit or sprinkled on top of your smoothies and smoothie bowls
Once you place your order, we mail it out on the same day from our warehouse in Port Melbourne, Victoria!

Get FREE standard shipping on orders $75+ and FREE express at $150

International shipping is temporarily closed.
Meet Cinzia & Lana
From a little home invention to a booming business...
Smoothie Bombs was developed back in 2011 by certified nutritionist Cinzia for her fussy eater Lana.
The mother daughter duo now run this small Aussie business together!